All staff in school are responsible for the health and well-being of themselves and promoting that of others. The staff here are very good at listening to one and other and support each other to try and find solutions to problems promptly. Staff are praised for their hard work and their contributions and advice are very much valued. Staff are aware of a healthy work/life balance and are encouraged to take breaks and stay away from work related emails and messages in their personal time.
Miss White
As part of the mental health team I would like to introduce myself. My name is Wendy White. I have worked at St. Michael's for 17years. Anyone who knows me knows my favourite place is on top of one of the Wainwright fells out in the lakes. It definitely lifts my spirits and gives me a great deal of contentment!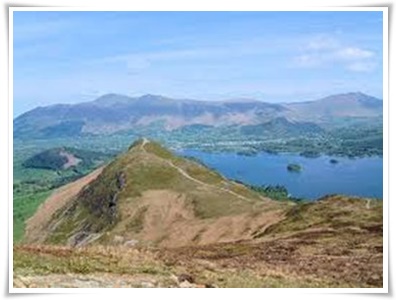 I am really passionate about my new role in mental health. I have experiences of mental health over the years through people I know, family members, and also personally after having my first child. I am aware that this is a broad topic and that there are many forms of mental health. I am looking forward to gaining a greater understanding of all aspects of mental health and well-being and using it to help others.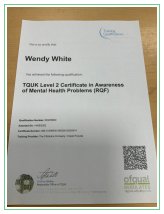 Most of us will have experience of mental health issues or know someone close that has been affected.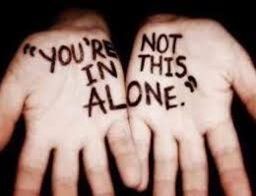 Please don't suffer in silence. If you need help or advice with anything, big or small, we are here to help!
Remember . . .
Mr Ian Brealey - thedoodlebug@rocketmail.com - www.thedoodlebug.net
11 June 2022
Mrs Regan
St Michael's Nursery and Infant School
Station Road
Workington
CA14 2UY
Dear Mrs Regan,
I thoroughly enjoyed working with both your pupils and staff yesterday, I believe that not only did your pupils and staff achieve some fantastic results but also that there were many different positive elements which I noticed throughout the workshop day.
Having worked at more than four hundred different schools nationwide, I have become accustomed to what pupils are able to achieve on average in my workshop sessions based on their ages and the workshop period during the academic year.
I have an understanding and appreciation of what I consider general and average achievement levels within a specific year with regards to completed pictures, comprehension levels, resilience and other elements including focus, behaviour, manners, and noise levels.
Due to my experience and observations during the workshop day, I thought the following feedback may prove beneficial for your future reference and highlight how I believe your pupils are performing currently not only within your school but also compared to other schools nationwide at which I have presented the workshops.
The most impressive attribute which was evident from a collective perspective would be the resilience levels at your school.
With regards to perseverance and resilience, I noticed that all your year groups from reception up to and including year 2, showed much higher levels than average.
It became obvious to me during my time at your school that these elements were as a direct result of the work that your staff had done prior to me working with your pupils but this is now always the case at every school which I visit.
To elaborate on those attributes further, at many schools I hear examples of fixed mindset terminology like "I can't do this" or pupils give up when they encounter challenging picture elements. It is also not unusual for me to see some pupils get teary when they struggle with the more challenging parts of the pictures. The fact that I did not see anyone giving up or hear any fixed terminology or saw very few tears further highlights just how good the perseverance and resilience levers are at our school.
If I was to estimate just how good I believe the resilience levels are at your school, based on my experience and the number of schools at which I have delivered the workshops, I would put your pupils collectively in the top ten percent of schools at which I have delivered the workshops for reception and KS1 pupils.
Having worked at over 400 schools nationwide, I trust that gives you a further indication of just how impressive the resilience levels are at your school.
I would also like to add, that since the lockdowns, the resilience levels at some schools have not been as impressive generally compared to other schools which is understandable when factoring in the disruptions and lockdowns that schools have had to navigate during recent years.
However, if anything, I believe that this is certainly not the case at your school and highlights even more why the resilience levels are so impressive in all your classrooms.
The completed pictures are very informative for teachers and highlight how your pupils performed with regards to a wide range of attributes including the ability to follow instructions, measuring skills, comprehension, and spatial awareness besides many other different elements.
After viewing the completed pictures, I was impressed with the quality, it was obvious to me that your pupils had followed my instructions very carefully and they had been patient as I did not see hardly any of the pupils complete steps before me, which is not always the case at Infant Schools. When you consider that this was also the case with your reception class, that is very impressive considering the ages of the pupils in that classroom.
From a collective perspective, I would say that your reception class worked at a level which I would generally associate as a good Year 1 level, that is certainly not the case with every reception class I work with an generally they produce a range of work from Nursery to Year 1 level so for the class to be collectively at a Year 1 level, that is an impressive achievement.
Your other two classes also produced some excellent pictures and although the ability range in those two classrooms are wider which is not usual in KS1 classrooms, there was still a good percentage of pupils in those classrooms who achieved completed pictures which were of a level I would usually associate with children older than their physical ages.
When you consider that your school is an Infant School, I believe that is very impressive and a reflection of not only your pupils' attitudes to learning but also the hard work and commitment of your staff.
Not only was I impressed with the way that your pupils applied themselves in the workshop sessions, but I must mention their behaviour and manners, both of which were exemplary. I found them to be very respectful towards me, they were quiet when I gave them instructions and very polite.
With regards to noise levels in all three of the workshop sessions, I would have to say that they were much better than average and for your reception class to work with me for ninety minutes continuously, keep the noise levels down as well as they did and produce the work that they did, was fantastic and so impressive. That is of absolutely no detriment to your other two classes though, as the noise levels in those classrooms were still very good and compared to similar year groups at other schools were still certainly much better than average with regards to this element.
Due to the pandemic, many primary schools are booking workshops for Years 1 to 6 as they feel that their reception children are underdeveloped due to lockdowns, and I can appreciate why this is being taken into consideration. However, for your reception pupils to work that well with me and keep the noise levels to the absolute minimum was fantastic but the fact that they did not need a mini break in the middle of the session was testament to just how impressive they really are. I would go as far to say, that if they would have had a mini break that it would have been detrimental such was their focus, for pupils of those ages to work ninety minutes with me and maintain that much focus and concentration, is quite simply outstanding.
Another factor since the lockdowns are the vocabularies of pupil nationwide, I have noticed that they are not generally where they were before the lockdowns. I would say that vocabularies and word knowledge of your pupils were about where I would expect them to be considering their respective ages although your reception class impressed me with their ward knowledge and vocabularies especially with regards to shapes as they knew that half a circle is a semi-circle and what an oval is for example.
I am certain that the many positive elements I witnessed regarding your pupils' achievements and the way they conducted themselves on the workshop days are as a direct result of their respective teachers' input so I must mention that as your staff deserve great credit. Every conversation which I had with a different member of your staff was a positive one and they all left me with the impression that they are passionate about their roles, committed to helping your pupils achieve their full potential and excellent role models. They were enthusiastic with regards to taking part in the sessions alongside their pupils, which is not the case at every school which I visit.
One significant element I would like to add please if I may, to anyone reading this letter I would like to highlight that I am a great believer in positive praise and constructive criticism as and when it is warranted, and this letter is based on which I have seen and witnessed at St Michael's Infant & Nursery School and all the other schools at which I have worked.
No feedback is better than false feedback in my opinion and sometimes my feedback has not always been well received by teachers, but I must be honest as I feel that is of paramount importance.
So with that being a key point, I would like to add that I cannot fault the pupils, staff or environment at your school in any way whatsoever and I was impressed for so many different reasons but especially by the pupils' attitudes to learning their manners and behaviour, the respectfulness of everybody at the school, the noise levels, the resilience and perseverance levels, the quality of the completed pictures and the enthusiasm of the teachers which is having such a positive impact on their respective pupils. The resilience levels really are so impressive at your school and even more so as your school is an Infant School, I fully appreciate the work that you have done both as a school and as a staff group for your pupils to impress me as much as they did with regards to their resilience levels.
The work that you have done so far is having a real significant impact and I have nothing but positive things to say about the resilience levels at your school as I believe that they are genuinely fantastic, please pass on my comments to your staff as they deserve great credit for this impressive element.
From the moment I entered our school until the moment I left, I was made to feel very welcome by both pupils and staff, I believe we all deserve to feel good about ourselves and the warm, welcoming and stimulating environment which I encountered at our school is ideal in my humble opinion to help children not only from an academic aspect but also from a Mental Health and Wellbeing perspective.
The fact that I have taken the time to write this letter emphasises what a positive impression both the pupils and staff made on me during my time at your school.
In my humble opinion your school is a fantastic environment in which pupils can thrive and the contents of this letter reflect that they are already doing so.
Your pupils are a credit to themselves, their teachers, your school and their parents.
Thank you again for booking my workshops and I believe the workshop day proved to be very successful based on your pupils' achievements.
Please feel free to share this feedback letter as you wish and keep up the fantastic work!
Yours sincerely,
Ian Brealey